Premier Li Keqiang hails cooperation with Rio de Janeiro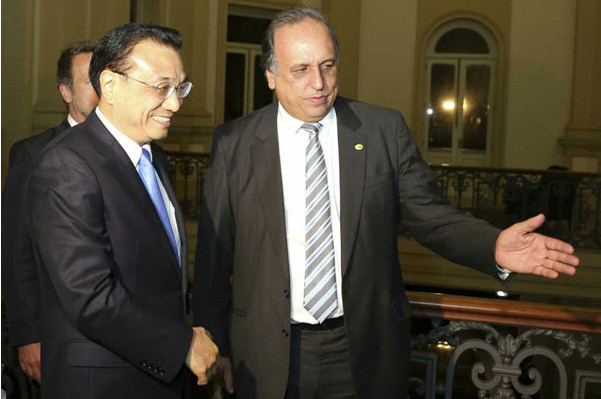 China thanked the government of Rio de Janeiro for opening the door to Chinese manufacturing exports, and cooperation with the famous Brazilian state will be enhanced, Premier Li Keqiang told Luiz Fernando de Souza, the state's governor, during their meeting on May 20.
The Premier said Rio has taken the lead in China-Brazil cooperation, and he believed that the deepening partnership between the two countries will bring more opportunities to the state's development.
China hopes that Rio will continue to provide support for Chinese enterprises, he said.
The Premier also said that China will share its experience of holding the Olympics with the next host country through training personnel and exchanging technology.
He expressed his wishes for a successful Olympic Games which will be held in Rio in 2016.
For his part, de Souza said his state is looking forward to even more cooperation with China given its huge demand for infrastructure and equipment, ahead of and beyond the Games.
Rio welcomes Chinese businesses and investment, he said, and hopes to be the gateway for Chinese products, especially equipment, into the Brazil market.